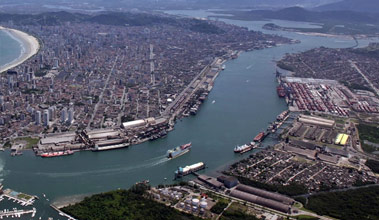 At the beginning of August, the judge of the 1st Federal Court at Santos issued a ruling halting the execution of the procurement contract under Electronic Auction #36/2017, initiated by São Paulo State Docks Company (CODESP), for the dredging and maintenance of Santos Port. These same services had already been the subject of a tender process in February this year, for a concession to be awarded by the Ministry of Transport, Ports and Civil Aviation (MTPA) as set out in the Act 11,610/2007 – Brazilian Dredging Program (PND).
It is worth mentioning that the Santos Port, inaugurated in 1892, is considered the most important Brazilian port. In 2007, it was recognized as the largest port in Latin America. In 2013, it recorded the handling of more than 114 million tonnes of cargo, corresponding to more than 50% of Brazil's gross domestic product (GDP).
The still in force preliminary injunction halting the dredging operations was awarded on the grounds that the subjects of both federal government's and CODESP's procurement contracts have the same purpose: To apply the Regulation 04/2014 from the extinct Secretariat of Ports. This regulation establishes that all contracts entered into by local port authorities should have a termination clause in place in case they cover the same subject and scope of a previous federal government's procurement contract (Article 3, Item II).
There is also another lawsuit pending before the Santos Federal Court which addresses the same issue regarding the violation of the provision against concurrence and superimposition of dredging agreements executed by different government agencies, challenging the procurement of dredging and maintenance services by CODESP. Under PND, the federal government had already executed a contract for these same services. This means that CODESP's procurement violates the provisions of the regulation from the Secretariat of Ports.
In both lawsuits, CODESP defends the maintenance of the procured port dredging services, even if in violation of current regulations, on the grounds that these services are of public interest and the federal government is delaying the start of services.
According to Bruno Zaroni, partner at Zaroni Advogados, the law firm responsible for conducting both lawsuits, "despite the arguments put forward by CODESP, the awarded preliminary injunction correctly gave priority to the provisions of the regulation issued by the federal entity, bearing in mind that the services procured by MTPA are being performed since April this year. Its purpose is to protect the interests of the companies engaged by MTPA and prevent the squandering of public funds in duplicated contracts providing for the same services." CODESP still can file an appeal against this ruling at the Federal Regional Court.