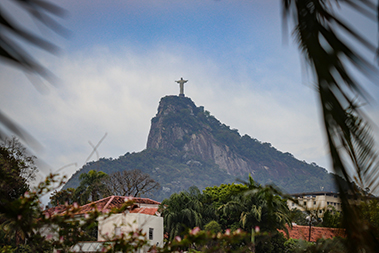 From April to June 2019, Rio de Janeiro's residents and tourists will have the opportunity to engage in a series of activities focused on raising awareness of pollution in rivers and oceans. Among the main attractions of the Caminhos do Futuro (Future Paths) project, there are installations by Dutch artists Thijs Biersteker and Daan Roosegaarde that will be placed at the main sights of the city such as Copacabana Beach and Luiz Paulo Conde Waterfront Promenade, in Rio's Downtown.  The project's organizers want to encourage people to think about the dangers of the ever-growing amount of plastics in oceans, and present artworks that bring together art and technology. The Caminhos do Futuro project is supported by the Netherlands Consulate-General, Rio de Janeiro's municipal government, Zaroni Advogados, Copacabana Palace, and Casa França-Brasil, and it is looking for sponsors in Brazil and abroad.

"We are going to invite cariocas [Rio de Janeiro's natives] and tourists visiting Rio to participate in a truly immersive experience in environments that draw the attention to some of the main current issues. In a playful way, we want to make audiences aware of the importance of protecting rivers and oceans, offering new perspectives about the water pollution issue," explains Denise Grimming, the project's general coordinator.
The night lighting show Waterlicht (Water Light), for the first time presented in Latin America, is a multimedia performance by artist and designer Daan Roosegaarde. It simulates an imaginary waterline using LED technology. The Waterlicht installation debuted in Amsterdam and was exhibited in several European cities. Roosegaarde is famous by projects that explore the relationships between people, technology and spaces. This artist's interactive projects – including actions in the fashion and architecture worlds – are environments that make great use of touch technology.
Thijs Biersteker, a Dutch artist as well, will exhibit his kinetic interactive installation Plastic Refletic. This award-winning artist's new work has a peculiarity: it is made of 601 pieces of plastic collected from oceans around the world. He became famous worldwide after winning the prestigious Cannes Lions awards for design and craft.
"Caminhos do Futuro is a modern, daring project that includes attractions never before seen in Brazil. It is a unique opportunity to see works by amazing Dutch artists, as well as to participate in activities that have everything to do with Rio de Janeiro's spirit and atmosphere, a city known worldwide for its beaches and lagoons," says Raphael Zaroni, partner at Zaroni Advogados, one of the project's supporters.
Besides art installations, the Caminhos do Futuro will showcase other attractions such as augmented reality tracks across the city that will be part of a water-themed competition in which top ranked will receive special prizes. Furthermore, the audience will be encouraged to interact with a huge "wave" – with a surfboard inside – made of recycled PET bottles, to be installed near the places of activities. Additionally, there will be a contest to award the best water-themed game or app proposal.
The Caminhos do Futuro creators still are looking for sponsors to fully execute the project. The Caminhos do Futuro project is under the requirements of Rouanet Act, providing deductions of 100% on the amount invested and 4% on income tax payable. The project is allowed to raise funds under Rio de Janeiro Municipal Culture Incentive Act and may receive up to R$ 1,089,409 from companies that are ISS taxpayers and have applied for the Municipal Department of Culture's request for proposals.  The next request for proposals is expected to be issued between August and September.