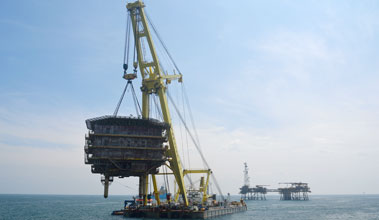 Decommissioning contracts are far from typical. Whereas there are many industry standard contracts for  certain activities in the maritime and construction sectors, such as charters (BIMCO), and (design &) construct contracts (NEC, FIDIC, LOGIC etc.), currently there are no such standard contracts for decommissioning works. While BIMCO has a series of  formats specifically drafted for wreck removal works, i.e. the 'Wreckfixed', 'Wreck-stage' and "Wreckhire',  the complexities associated with the removal of a ship are dissimilar to those encountered when attempting to decommission an entire offshore production or drilling platform. Therefore, stakeholders within the maritime field have recognized the need to provide the decommissioning industry with standard agreements to address the possible risks associated with these works. For this reason, BIMCO is in the process of developing a separate decommissioning contract. The same is true for Decom North Sea and Oil & Gas UK, who together are concurrently developing a standard 'Decomm Logic' form of agreement.
This means that, to date, decommissioning contracts are always tailor-made and require extensive negotiations to conclude. It will come as no surprise that there are many risks to be considered, in particular due to the fact that we are dealing with structures that may be more than 40 years old (structural integrity risks); contain extensive pipeline systems and tanks containing contaminants (risk of environmental pollution); and may even contain hazardous materials such as asbestos, mercury and naturally occurring radioactive material (NORM) (health risk).
Apart from the perceived risks inherent to decommissioning operations, there are typical legal issues such as obligations related to the sharing of rely-upon information, trans-border transportation of the structure for dismantlement and disposal,  title and ownership of the items removed from the structure after dismantling, on-going obligations associated with the management of waste streams until final disposal, and responsibility for rehabilitation of the site after removal of the structure. No matter how much effort is put into investigations and pre-cleaning of the structures to be removed, there are always residual risks to be considered. Whereas such risks are largely identifiable and, to some extent, assessable, the question remains who should best take responsibility for them. If this is the contractor, then he will need to price the risk, which will raise the cost to the client. If it is the client, then he may fear wanton claims from the contractor.
Decommissioning in Brazil has yet to take off. Owners of offshore structures are generally reluctant to be proactive in this regard, because they will not have made any reservation in the past to cover the cost of decommissioning. This will therefore be an out-of-pocket expense for them without any return other than acquittal from a legal liability. This may explain why owners and/or operators of an offshore oil and gas platform may be tempted to avoid the expense until the last moment, when they are forced by legislation to take action. Notwithstanding, it is reported that approximately 150 offshore production facilities are currently operating in Brazil. The National Petroleum, Natural Gas and Biofuels Agency (ANP) reports that about 54% of these structures are older than 25 years and some 79 fixed units identified for decommissioning, with 15 to 20 structures expected to be decommission by 2020.
While decommissioning is no longer unknown territory and the market is able to offer the expertise, equipment and other resources required to successfully and safely remove offshore structures, the number of contractors who can offer the whole spectrum of required services is limited. Owners are best advised not to engage 'yellow page' contractors who hire in all necessary resources and offer little substance for recourse in case it goes wrong; this type of work is simply too risky to take that kind of risk.
BOSKALIS decommissions LEMAN BH platform
Early 2016 Boskalis and Nederlandse Aardolie Maatschappij (NAM) signed a contract for the decommissioning of the Leman BH platform located within the UK – Southern North Sea sector. The focus of Boskalis has always been to present the 'safest, best technical & most economical' solution for its clients. This commitment to offer end customers with practical and cost-effective planning is demonstrated by the successful decommissioning operations of the Leman BH.
Prior to signing the contract, Boskalis followed a thorough process, starting many years earlier with concept and feasibility studies followed by a formal tender process initiated by Shell UK, operator of oil and gas facility. Since, the Boskalis project team planned and engineered scope of work entailing:  project management, engineering, surveying, cutting, lifting and transporting of the BH topside and jacket for further dismantling and disposing operations undertaken onshore within the UK.
This summer (2017) the Leman BH platform was successfully removed and transported to Great Yarmouth as part of the decommissioning plan approved by UK authorities. Currently, dismantling, disposal & re-use activities are ongoing. Boskalis and Shell UK representatives have been monitoring the progress, while Boskalis has awarded the dismantling and disposal works to the Peterson-Veolia joint venture. Peterson-Veolia developed the Great Yarmouth facilities in line with their other UK and European facilities. Leman BH is the first facility to be landed there. Under similar arrangements, Boskalis expects more assets will be transported to such site.
Boskalis is a stock-listed multinational company, focusing on civil, marine & offshore services, and contracting. Boskalis has a long decommissioning track-record and permanent establishment in the United Kingdom (UK) in the form of subsidiary company Boskalis-Westminster. Boskalis has currently several contracts in execution, relating to floating production facilities as well as fixed offshore platforms, including subsea facilities.